*I am happy to provide affiliate links for your convenience. To learn more, click here.
There was a time when I wrote down a Bible verse (or two or five) almost every day. I think I was writing verses before it was "in." It wasn't something I intentionally set out to do. I shared my story way back in this post where I showed you a picture of one of my 2012 journals.
Just as I didn't intentionally start hand-writing verses, I don't remember intentionally stopping either. But I miss the blessings I got from doing it. It's time to be intentional! So, guess what? It's baaaaaack.
You may be feeling deja vu because I mentioned hand-writing verses in last week's post – but I've been thinking about it ever since and I think this subject really deserves a whole post. Not only that, but I am hoping you'll come along with me! I'll give you the details in a sec.
But first let me give you 10 (plus 2) reasons to hand-write verses.
1. John did it.
Revelation 1:9-11: I, John, your brother and partner in the tribulation and the kingdom and the patient endurance that are in Jesus, was on the island called Patmos on account of the word of God and the testimony of Jesus. I was in the Spirit on the Lord's day, and I heard behind me a loud voice like a trumpet saying, "Write what you see in a book and send it to the seven churches, to Ephesus and to Smyrna and to Pergamum and to Thyatira and to Sardis and to Philadelphia and to Laodicea."
2. Luke did it.
Luke 1:3: it seemed good to me also, having followed all things closely for some time past, to write an orderly account for you, most excellent Theophilus
3. Paul did it.
2 Thessalonians 3:17: I, Paul, write this greeting with my own hand. This is the sign of genuineness in every letter of mine; it is the way I write.
4. Moses recommended it.
Deuteronomy 6:9: You shall write them on the doorposts of your house and on your gates.
5. Isaiah recommended it.
Isaiah 30:8: And now, go, write it before them on a tablet and inscribe it in a book, that it may be for the time to come as a witness forever.
6. Jeremiah did it in obedience.
Jeremiah 30:1-2: The word that came to Jeremiah from the Lord: "Thus says the Lord, the God of Israel: Write in a book all the words that I have spoken to you.
7. Ezekiel did it.
Ezekiel 43:11: And if they are ashamed of all that they have done, make known to them the design of the temple, its arrangement, its exits and its entrances, that is, its whole design; and make known to them as well all its statutes and its whole design and all its laws, and write it down in their sight, so that they may observe all its laws and all its statutes and carry them out.
8. The kings did it.
Deuteronomy 17:18: "And when he sits on the throne of his kingdom, he shall write for himself in a book a copy of this law, approved by the Levitical priests.
I am fascinated that the kings had to do this – and I wrote a post about it here.
9. Joshua did it.
Joshua 24:26 (NLT): Joshua recorded these things in the Book of God's Instructions. As a reminder of their agreement, he took a huge stone and rolled it beneath the terebinth tree beside the Tabernacle of the Lord.
10. The Lord did it!
Exodus 34:1: The Lord said to Moses, "Cut for yourself two tablets of stone like the first, and I will write on the tablets the words that were on the first tablets, which you broke.
Need I say more? No, I don't think so.
Nevertheless, I have two bonus reasons for you.
11. It gives the blessing of consistency in His Word.
We want to spend time with the Lord every day. We want to learn from His Word. But you know how sometimes the to-do list is so big that you're not sure you have time for it? Yep. Me too. But here's the thing. When I have that little goal to write a verse each day, then that somehow makes me find the time. Even if it's just a few minutes, I carve out the time. Because I know I can – it's doable. Plus I have a planner that has a spot to write each verse for each day, and I can't seem to leave any spot blank!
12. It gives the blessing of learning more.
There's something about having this "verse hunt" in the back of my mind. When I'm having my Bible study time, I'm always on the lookout for THE verse(s) that I think the Lord wants me to write down. Once I have it, then I re-read it a few times before I write it. I also like to pick one word to write in ALL CAPS which forces me to think about it a little longer. You would be amazed at all the Lord has taught me in these couple of minutes before I write it! I have found that the longer I sit with a verse, the more the Lord teaches me. Such a blessing!
And just in case you need a testimonial from someone other than me, let me share this: Just last night, our small group started the book Women of the Word by Jen Wilkin. (This is a really good book on how to study the Bible. I will be doing a book review on it soon, so stay tuned.) But I gave "extra credit" homework to the group to hand-write a verse a day and put one word in all caps. I was overjoyed to receive this email this morning …
"Good morning! I had some extra devotional time this morning so I wrote John 3:16 and capitalized GAVE. What a treasure His Word is because He revealed something new to me through a verse that I have read so many times before! Thank you for suggesting this. I am excited and expectant to see what else He shows me. I do think I am going to have to get up even earlier though! LOL!"
She hit the nail on the head with that word: treasure.
So what do you say? Want to join me in writing a verse a day?  Just try it for a week to see the blessings it can bring.
You can of course do this on your own. But if you would like accountability and encouragement, then follow these simple steps:
1. Hand-write a verse each day for one week (Monday through Sunday) on a piece of paper or in a journal or planner.
2. Extra credit – put one word in ALL CAPS.
3. Take a picture of your page and put it in the comments of my facebook post on Sunday night.
4. Use the hashtag #write7onmyheart and be sure to encourage each other!
Feel free to hop in any week you want. I can't wait to see your treasures!
The hand-lettered print above?
All my email subscribers got it in their inbox for free! I send a printable every Thursday so they can either give it as a gift, make a greeting card, save it as a screensaver, put it in their planner or scrapbook, make index cards to memorize – you get the idea. If you want to join the fun too, you can subscribe right here.
If you missed this printable, you can always find it here in my SHOP.
Or you can save it for later on Pinterest.
Don't forget to download your welcome gifts …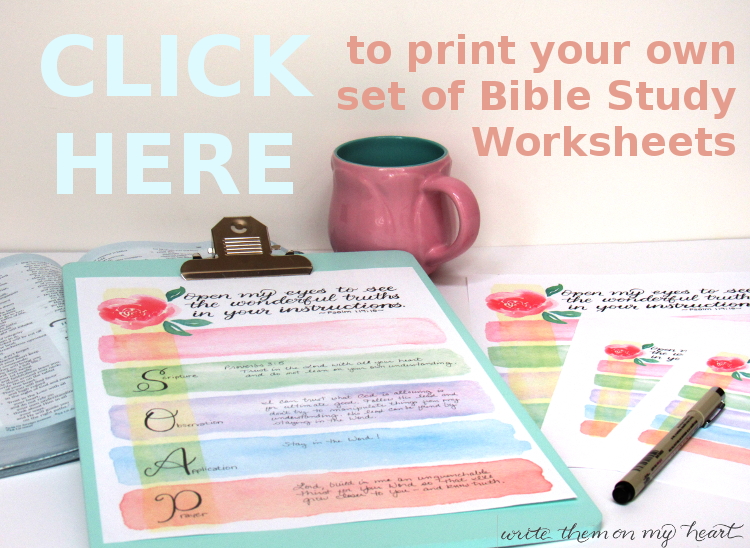 I link up with these blogger friends: Arabah Joy at Grace & Truth, Deb at Faith 'n Friends, Lori at Moments of Hope, Kelly at Purposeful Faith, Jennifer at Tell His Story, Holley at Coffee For Your Heart.
You might also enjoy these:
Have a comment? I would love to hear it on my instagram or facebook page!
Share this post: