*I am happy to provide affiliate links for your convenience. To learn more, click here. 
Romans 8:28 is one of those verses everyone loves to quote – including me! But it's also one of those that we absolutely, positively cannot take out of context!
If we read Romans 8:28 by itself it says:
And we know that for those who love God all things work together for good, for those who are called according to his purpose.
Well, that sounds like a great deal – sign me up!
It is a great deal, but maybe not in the way you might think if you just brush by it. It is not saying that if you are a Christian all things will turn out good – at least not necessarily on earth.
Why do I say that?
Because of the verses leading up to verse 28. Let's start in verse 17 and read all the way to verse 28 to put it into context.
And let's make this more fun by having a pop quiz!
Just kidding. Breathe.
But I would like for you to indulge me and answer these 4 questions …
Don't worry! This will be an open-book quiz. And I have even put the answers in bold!
You're welcome.
Here we go. Ask the Lord to speak to you through these verses.
1. Christians are not exempt from suffering. Is there a purpose behind the suffering?
Verses 17-18 say: and if children, then heirs—heirs of God and fellow heirs with Christ, provided we suffer with him in order that we may also be glorified with him. For I consider that the sufferings of this present time are not worth comparing with the glory that is to be revealed to us.
Now there's something to think about!
How do you feel about your present sufferings? Know this – they are worth it!
2. Who decided life on earth would be this way and why?
Verses 19-23 say: For the creation waits with eager longing for the revealing of the sons of God. For the creation was subjected to futility, not willingly, but because of him who subjected it, in hope that the creation itself will be set free from its bondage to corruption and obtain the freedom of the glory of the children of God. For we know that the whole creation has been groaning together in the pains of childbirth until now. And not only the creation, but we ourselves, who have the firstfruits of the Spirit, groan inwardly as we wait eagerly for adoption as sons, the redemption of our bodies.
Again, it will be so worth it!
3. If things were "heaven on earth" all the time, would you live a life that reflects hope for a better place?
Verse 24-25 says: For in this hope we were saved. Now hope that is seen is not hope. For who hopes for what he sees? But if we hope for what we do not see, we wait for it with patience.
4. Do you pray for God to give you what would be best in your ultimate long-range good, or just your right-now good?
Verses 26-27 say: Likewise the Spirit helps us in our weakness. For we do not know what to pray for as we ought, but the Spirit himself intercedes for us with groanings too deep for words. And he who searches hearts knows what is the mind of the Spirit, because the Spirit intercedes for the saints according to the will of God.
Now don't get me wrong – it's ok to ask! (See Philippians 4:6) But we can have peace in knowing when we get a "no" it is because He is thinking of our ultimate good. And whatever gets us to our ultimate good will be so worth it.
As Rick Warren, author of Purpose Driven Life*, says, "God is more interested in your character than your comfort. God is more interested in making your life holy than He is in making your life happy."
And always remember that His thoughts are higher than our thoughts (Isaiah 55:8-9). We may not understand. But we can trust Him to always be working toward our ultimate good. Believe it.
To wrap up, I wanted to share what my NIV Life Application Study Bible* says in the notes for verse 28:
"God works in 'all things' – not just isolated incidents – for our good. This does not mean that all that happens to us is good. Evil is present in our fallen world, but God is able to turn every circumstance around for our long-range good. Note that God is not working to make us happy, but to fulfill his purpose. Note also that this promise is not for everybody. It can be claimed only by those who love God and are called according to his purpose. Those who are "called" are those the Holy Spirit convinces and enables to receive Christ. Such people have a new perspective, a new mind-set on life. They trust in God; not life's treasures; they look for their security in heaven, not on earth; they learn to accept, not resent, pain and persecution because God is with them."
I have put all the verses (17-28) in the background of this printable so we will always remember to keep verse 28 in context.
I hope you like it, because it took me forever to get all those words to come out perfectly in that oval! haha
My email subscribers received this printable for FREE! If you missed it you can get one in my SHOP. Be sure to subscribe so you won't miss any future freebies. I send a new one every Thursday!
If you would like to see lots of ideas on how to display all your free printables, check out this Pinterest board!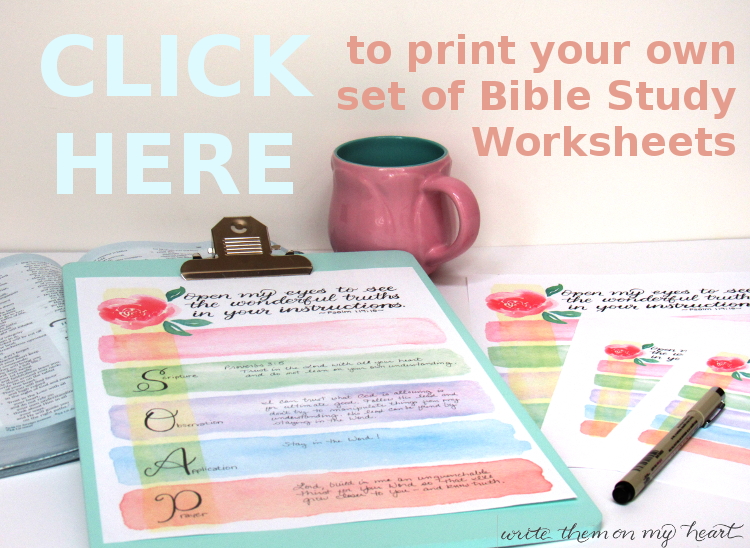 Have a comment? I'd love to hear it over on instagram!