*This post contains affiliate links. Read my Policies here.
Think back to when contemporary Christian music was just becoming a thing – late 70's, I think. For those of you not even born yet, bear with me for a sec. There was a song back then by The 2nd Chapter of Acts that I flat wore out on my record player. (If you don't know what a record player is, you can google it!)
To this day, I have not tired of that song. We even had the piano version played at our wedding as we were leaving! Our first song as man and wife. It is called The Easter Song and I think about it every Easter. I always secretly hope that I'll hear it at church on Easter morning. But, alas, not many 70's songs made it into our hymnals. Well, maybe 1870's. haha
Anyway, I'm thinking about that wonderful song today because it is Matthew 28 in a nutshell.
Which is where we are going today.
A little background – I wanted to hand-letter an Easter verse for you (and me!) to display this month. But which one?
I almost did 1 Peter 1:3-4: Blessed be the God and Father of our Lord Jesus Christ! According to his great mercy, he has caused us to be born again to a living hope through the resurrection of Jesus Christ from the dead, to an inheritance that is imperishable, undefiled, and unfading, kept in heaven for you,
Amazing verses.
But I ended up in Matthew 28 and I noticed some interesting things I hadn't focused on before. Don't you love when God does that? Since I've been looking up fear verses lately for My Fear Verse Project, guess what stood out to me this time?
Check out these verses in light of our fear project.
Matthew 28:1-3: Now after the Sabbath, toward the dawn of the first day of the week, Mary Magdalene and the other Mary went to see the tomb. And behold, there was a great earthquake, for an angel of the Lord descended from heaven and came and rolled back the stone and sat on it. His appearance was like lightning, and his clothing white as snow.
Can you even imagine?
Verse 4: And for fear of him the guards trembled and became like dead men.
Ok. I just have to stop and smile at this. The men – tough guards no less – fainted in fear, but the women didn't!
You go girls!
Verse 5: But the angel said to the women, "Do not be afraid, for I know that you seek Jesus who was crucified.
So it sounds like they were afraid too – just like we probably would have been – but they didn't faint.
Verses 6-7: He is not here, for he has risen, as he said. Come, see the place where he lay. Then go quickly and tell his disciples that he has risen from the dead, and behold, he is going before you to Galilee; there you will see him. See, I have told you."
Facing their fear paid off. They were trusted with a pretty important job!
Verse 8: So they departed quickly from the tomb with fear and great joy, and ran to tell his disciples.
Interesting how fear and great joy go together.
Verses 9-10: And behold, Jesus met them and said, "Greetings!" And they came up and took hold of his feet and worshiped him. Then Jesus said to them, "Do not be afraid; go and tell my brothers to go to Galilee, and there they will see me."
Allow me to repeat that. Jesus said to them, "Do not be afraid; you go girls!"
And they did. They were obedient even though they were afraid!
And they had good reason to be afraid because verses 11-15 explain the cover-up being planned to blame the disciples for stealing Jesus' body.
My Study Bible points out that the disciples were also afraid and they stayed behind locked doors in Jerusalem (see John 20:19). So Jesus met them there first (Luke 24:36) and then later in Galilee (John 21).
How cool is that? Jesus met them there first. He helped them through their fear.
And the last sentence in Matthew is in red letters – Jesus, our risen Lord, says, "And surely I am with you always, to the very end of the age."
Jesus will meet us there too – whenever and wherever we are afraid.
And I pray we will be obedient like Mary and Mary!
I have had the frame stand above for years, but here is one just like it in wrought iron. I think I might like the wrought iron better than my gold one! It is the perfect way to display and easily switch out your printables. If you print out on quality cardstock you won't even need a cute clip board. Have fun displaying your printables – see more display ideas on my Pinterest board.
My email subscribers received the He Is Risen printable for FREE! If you missed it you can find it in my SHOP. But be sure to subscribe so you won't miss any more freebies! I send a new one every Thursday.
P.S. I want to send a giant THANK YOU to Polly and Rachel who blessed me by featuring my little 'ol blog on their big 'ol Thriving Home Blog! If you haven't been to their blog yet, you must go check it out! I have subscribed to it for years because they have my kind of recipes – quick and easy real food. My favorite part is the freezer meal recipes, but I'm sure you will also enjoy their Menu Plans and Mom Life tips. And of course, I get excited when they share their faith too! Also, if you have ever thought about starting a blog, they have step by step instructions to get you going (which is exactly how I got started!). Thanks SO much Polly and Rachel!
Don't forget your welcome gifts …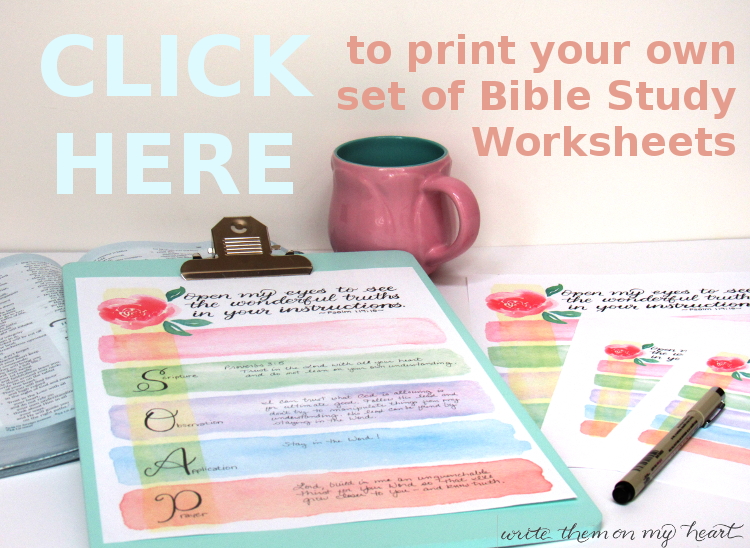 This post has been linked to Coffee for your Heart and Arabah Joy's Grace and Truth.
Have a comment? I'd love to hear it over on Instagram!