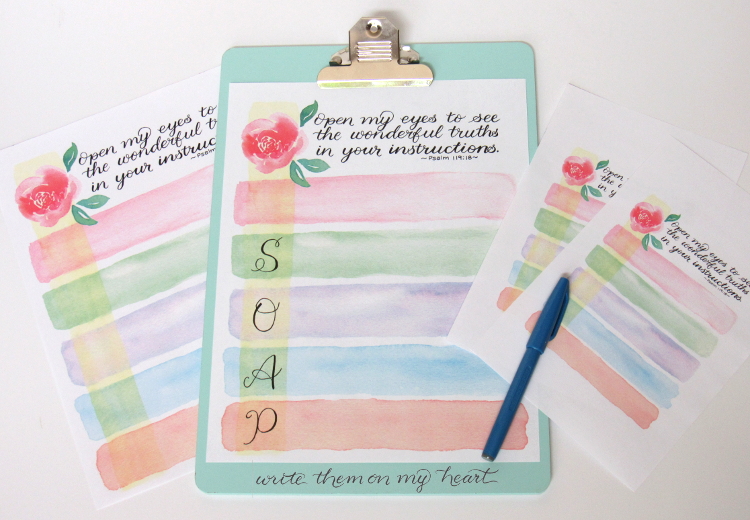 *I am happy to provide affiliate links for your convenience. To learn more, click here.
Who knew? I went to look up a few Bible study method acronyms, and lo and behold, I found a gazillion!
Well, of course I'm exaggerating. It just felt like a gazillion when I was looking up each and every one!
I actually found 21 (and more since then) – which is about 4 times more than I was expecting.
So, I have listed them all (with their websites) here. There is no need for you – or anyone else – to have to do all that work again! And since I'm somewhat of a research nerd, I am happy to do it. Especially since it's for a good cause – my favorite cause – Bible study!
Just take a gander at all these! And when you're done, I'll let you in on the ones I recommend.
APPLE – Attributes of God, Promises of God, Principles for Life, Lesson Learned or Sin to Avoid, Example to Follow
4 C's – Character, Condition, Change, Communicate
COMA – Context, Observation, Meaning, Application
FACTS – Facts, Application, Commands, Thanksgiving, Sins
FEAST – Focus, Engage, Assess, Spark, Turn
FOCUS – Foundation, Observation, Clarification, Utilization, Summation
GROW – Greet, Read, Observe, Write
HEAR – His Word, Examine It, Apply It, Respond in Prayers
JOY – Just write it, Observe what you see, Your heart's response
LEGACY – Location, Essence, Genre, Author, Context, Years
MEALS – Memorize, Examine, Apply, Listen, Study
OIA – Observation, Interpretation, Application
5 P's – Position Yourself, Pour Over/Paraphrase, Pull Out Principles, Pose Questions, Plan Obedience and Pin Down the Date
PLANT – Prepare Your Heart, Learn from the Word, Ask Questions, Name the Truth, Take Action
POWER – Prayer, Observe, Write, Envision, Response
PRAISE – Pray, Read, Assess, Investigate, Submit, Express
PRAY – Prayer, Read/Reflect, Apply, Yield
PRESS – Pray, Read, Examine, Summarize, Share
5 R's – Read, Rewrite, Restate, Relate/Reveal, Respond
REAP – Reference, Explore, Application, Prayer
REST – Read, Engage, Savor, Take Charge
SALT – Supplication, Absorb, Learn, Thanksgiving
SOAK – Scripture, Observation, Application, Kneeling in Prayer
SOAP – Scripture, Observation, Application, Prayer
SPACEPETS – Sin to confess? Promise to claim? Attitude to change? Command to obey? Example to follow? Prayer to pray? Error to avoid? Truth to believe? Something to praise God for?
WORD – Write, Observe, Relevant, Declare
*Please let me know if you find any more Bible study acronyms so I can keep this list updated.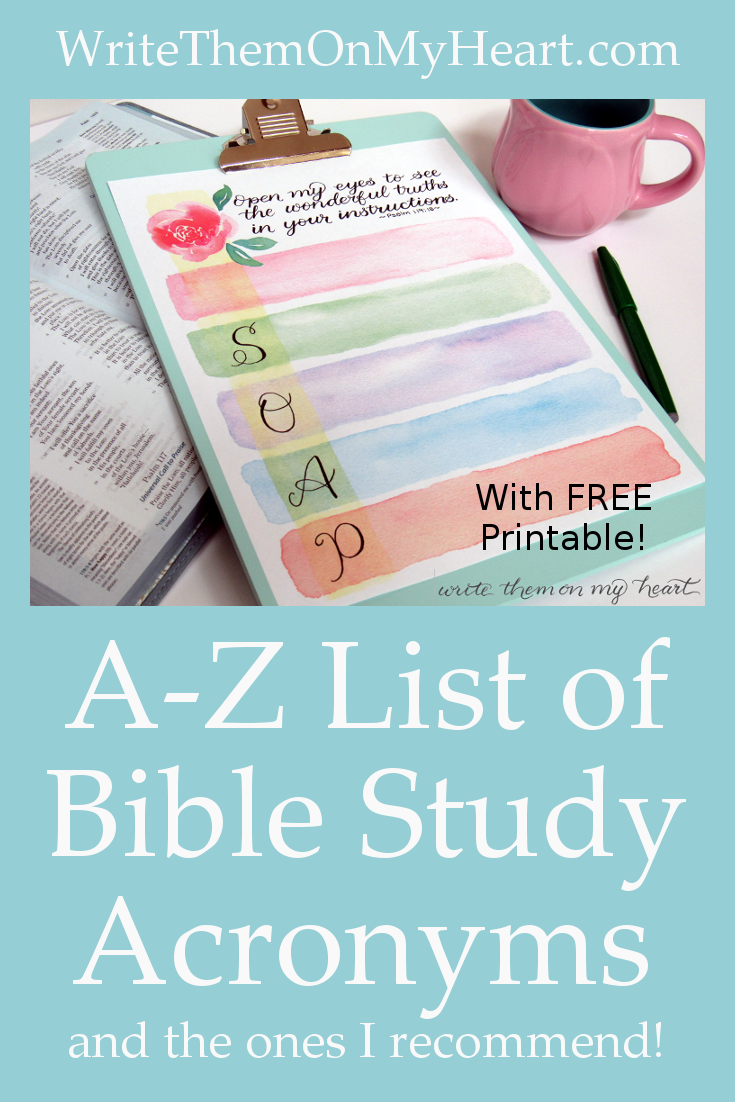 What creativity in all those acronyms! I am a fan of anything that will help me – and you – study the Bible!
So, I made us a set of printables to do just that. And of course, they had to be pretty.
The watercolor printables shown here can be used with most all of the acronyms on the list! There are a couple that won't fit, but I'm sure they can be adapted if you write small. Or draw some lines here and there. Ha. If you get really desperate, just let me know and I'll make you one to match. Really!
So where can you get this multi-functional 3-pack of Bible Study Worksheets?
Well, all my email subscribers got them in their inbox for free! You see, I send a different printable every Thursday so they can either give gifts, make greeting cards, fill planners or scrapbooks, make index cards to memorize, etc.
Usually you would have missed the free gift by now …
But not today!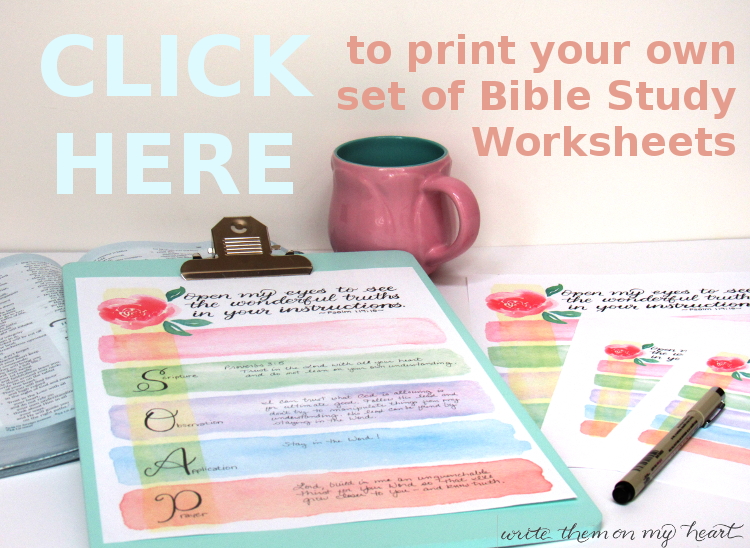 Be sure to share this with all your Bible study girlfriends!
Now I know that I promised you that I'd tell you which acronyms I recommend. And I will. But truth be told, I have only used one of these methods – the SOAP method. Way back in 2011, we had a women's retreat where we learned this method and I think it's a winner! But honestly, I think ANY of these methods would be great! You need to pick the one that will work for you. The one that resonates with you. The one that inspires you to study God's Word.
There is only one thing that I would add to every one of these methods.
Before you start studying, pray Psalm 119:18:
Open my eyes to see the wonderful truths in your instructions. (NLT)
We need the Holy Spirit in order to understand Scripture.
Luke 24:45: Then He opened their minds to understand the Scriptures,
So that is why I hand-lettered that prayer front and center on your worksheets.
I can't wait to hear which acronym you pick! Let me know on my instagram or facebook page. And while you are there, please follow me!
P.S. Don't forget to grab your free download of beautiful Bible study worksheets! Three gorgeous printables – all to inspire you to more Bible study!
Speaking of Bible study methods, I have both Rick Warren's and Kay Arthur's books (above) on how to study the Bible – and I highly recommend both!
You might also enjoy my book reviews …
I am linking up with Arabah Joy at Grace & Truth and Jennifer Dukes Lee at Tell His Story and Holley Gerth at Coffee For Your Heart and Becoming Press at Writer Wednesday and Alisa at Salt & Light and Susan Mead at Dance With Jesus and Kelly Balarie at Cheerleaders of Faith and Crystal Storms at Heart Encouragement.
Have a comment? I would love to hear it on my facebook or instagram page!