*This post may contain affiliate links. To learn more, click here.
~ Today's Scripture Art and mini Bible study on Mark 5 are designed to discover how believing can stop fear. ~
Guess what day it is? No, not hump day.
Although we are going to tackle one of those hurdles we all have to go over.
And that hurdle is fear.
Yes, it's time to add another verse to our Fear Verses Project. We are slowly chipping away at this project, and the Lord is gracious to give us understanding.
James 1:5: If any of you lacks wisdom, let him ask God, who gives generously to all without reproach, and it will be given him.
Let's take a look at Fear Verse #13 …
Mark 5:36 (ESV): But overhearing what they said, Jesus said to the ruler of the synagogue, "Do not fear, only believe."
Mini Bible Study on Mark 5
As we know, it's always helpful to read other versions. Unlike last week, this verse is very similar in all the versions so I won't list them all here. (But definitely look them all up yourself!)
Here's the NLT version …
Mark 5:36 (NLT): But Jesus overheard them and said to Jairus, "Don't be afraid. Just have faith."
As always, we need to read the whole story. Let's find out why Jesus said this.
We begin with our new friend Jairus. I would definitely like this guy …
Mark 5:22-23: Then came one of the rulers of the synagogue, Jairus by name, and seeing him, he fell at his feet and implored him earnestly, saying, "My little daughter is at the point of death. Come and lay your hands on her, so that she may be made well and live."
A couple of observations …
1. Jairus humbled himself bigtime. He fell at Jesus' feet.
2. He was totally confident that Jesus could heal his daughter.
3. He went out of his comfort zone by going to Jesus even though it would have been frowned upon because of his position as a ruler of the synagogue.
Keep those in mind as we keep reading …
Mark 5:24-34: And he went with him. And a great crowd followed him and thronged about him. And there was a woman who had had a discharge of blood for twelve years, and who had suffered much under many physicians, and had spent all that she had, and was no better but rather grew worse. She had heard the reports about Jesus and came up behind him in the crowd and touched his garment. For she said, "If I touch even his garments, I will be made well." And immediately the flow of blood dried up, and she felt in her body that she was healed of her disease. And Jesus, perceiving in himself that power had gone out from him, immediately turned about in the crowd and said, "Who touched my garments?" And his disciples said to him, "You see the crowd pressing around you, and yet you say, 'Who touched me?'" And he looked around to see who had done it. But the woman, knowing what had happened to her, came in fear and trembling and fell down before him and told him the whole truth. And he said to her, "Daughter, your faith has made you well; go in peace, and be healed of your disease."
A couple of observations …
1. The woman humbled herself bigtime. She fell at Jesus' feet in fear and trembling.
2. She was totally confident that Jesus could heal her.
3. She went out of her comfort zone by touching Jesus' garment which was against the law in that day because it was thought that touching people would pass on her uncleanness.
It's a big ditto! God must not want us to miss His point in this two-for-one account because He doubled it.
They both humbled themselves.
They both truly believed.
They both went way out of their comfort zone.
We can take a lesson from those. But there's more.
One other significant observation …
If I had been there with Jairus, I'd have been tapping my watch saying c'mon, c'mon, c'mon! Let's get going already!
But Jesus made him wait.
Then sure enough …
Mark 5:35: While he was still speaking, there came from the ruler's house some who said, "Your daughter is dead. Why trouble the Teacher any further?"
Oh the emotions! The hope he had when Jesus began heading to his house must have been slammed down hard at this announcement.
The Bible doesn't tell us Jairus' exact reaction. I tried to find it by reading this story in Matthew 9 and Luke 8, but this Mark 5 version has the most details.
Here is what the Bible does say …
Mark 5:36 But overhearing what they said, Jesus said to the ruler of the synagogue, "Do not fear, only believe."
Jesus ignored the rude messengers, but encouraged Jairus to keep believing.
He still does that today.
Jesus was more concerned with building Jairus' faith than anything else!
Now don't think I didn't notice that He didn't make the nameless woman wait, while He did make Jairus wait. Was that fair?
We are all different and He knows what's best for each of us. And "best" by Jesus' definition means: whatever will most build our faith. He showed us that by … being more concerned with building Jairus' faith than anything else.
I can attest that having to wait will most definitely build your faith – sometimes the building takes a few minutes and sometimes a few years. And sometimes the length depends on what we do during the wait.
So what did Jesus want Jairus to do during the wait?
Do not fear.
How?
Believe.
Believe what?
Jesus' word.
Anything else?
Only believe.
If you are thinking yeah, yeah, easier said than done, take notice of that little key point … Jesus' word.
If you struggle with fear and/or believing, get your nose in His Word and don't come out until He gives you bigger faith (Romans 10:17). He will give it because … say it with me …
He is more concerned with building our faith than anything else.
So you can probably guess how the story ends …
Mark 5:38-42: They came to the house of the ruler of the synagogue, and Jesus saw a commotion, people weeping and wailing loudly. And when he had entered, he said to them, "Why are you making a commotion and weeping? The child is not dead but sleeping." And they laughed at him. But he put them all outside and took the child's father and mother and those who were with him and went in where the child was. Taking her by the hand he said to her, "Talitha cumi," which means, "Little girl, I say to you, arise." And immediately the girl got up and began walking (for she was twelve years of age), and they were immediately overcome with amazement.
Jesus called Jairus to extreme faith.
Just as He calls us all.
*My prayer for you is … that this blog will inspire you to open your Bible every single day to seek God's face and write His Word on your heart – because HE'S the key to lasting heart change!
---
Have a comment? I would love to hear it on my instagram or facebook page!
I link up with these blogger friends: Arabah Joy at Grace & Truth, Deb at Faith 'n Friends, Lori at Moments of Hope, Kelly at Purposeful Faith, Jennifer at Tell His Story, Holley at Coffee For Your Heart, Mommy Moments and Inspire Me Monday.
This blog post was featured on …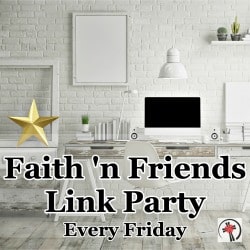 You might also enjoy these:
Read > Can We Speed Up God?
Check Out > My Personal Bible Study Method
Want a FREE SAMPLE of our Fear Not 365 Scripture Writing Plan?
Shop > Our Scripture Writing Journals!
You can shop today's Scripture Art of Mark 5 here in my SHOP.
Did you know?
I like to send my Insiders original Scripture Art!
Yep – I email a new printable once a month so it can be used in these 20 Clever ways!
Join the fun by subscribing below …